My range of Secret Message Zipper Purses make beautiful heartfelt gifts. Over 30 different designs to choose from!
The Zipper Purses are proudly an Australian product.  The pattern prints for the outer and lining fabrics have all been illustrated and designed by me.
Each purse features 2 of my unique pattern prints with an uplifting message printed on the inside lining. A gift that keeps on giving love and warmth through the special messages.
The Secret Message Zipper Purses are the perfect size to carry a phone, keys, cosmetics, credit cards etc. Alternatively use it as a pouch to hold items within, or attached to your bag.
A tab with a removeable gate ring is included on the side of the purse. This allows to attach keys, clip onto a belt or slip your finger through for effortless carrying, keeping your hands free to hold other things like a coffee!
MEASUREMENTS:
18cm x 13cm
Gate ring 2.5cm
FEATURES:
Pattern print on both outer sides with a co-ordinated lining fabric has been designed by me.
The lining has concealed seams.
The hidden message is printed as part of the lining design.
Fabric has been printed in Australian on 100% medium weight, soft cotton canvas.
Each of the 4 purse panels (outer and inner) are designed and printed as placement prints, so what you see is what you get, unlike just cutting out pieces from a meterage of fabric. A clever way to print and without fabric wastage.
Beautifully sewn in Loxton by my friend and experienced seamstress, Anna.
Nylon coil zip with matching colour pull. Zips may vary in colour to the photo, but will match nicely with the colours in the design.
VIEW & PURCHASE ONLINE via my MADEIT SHOP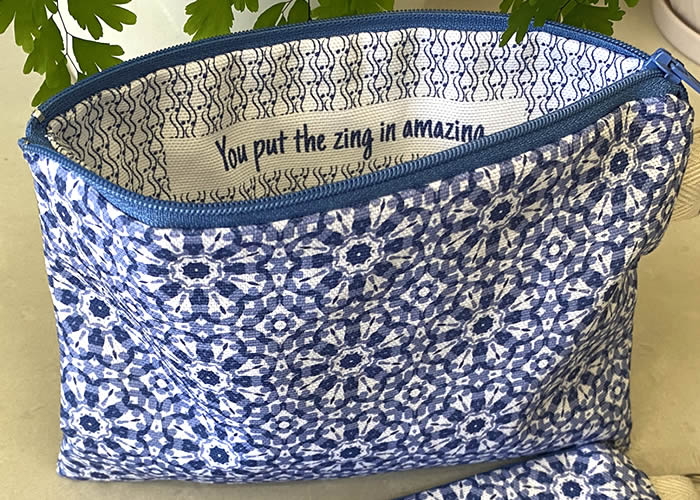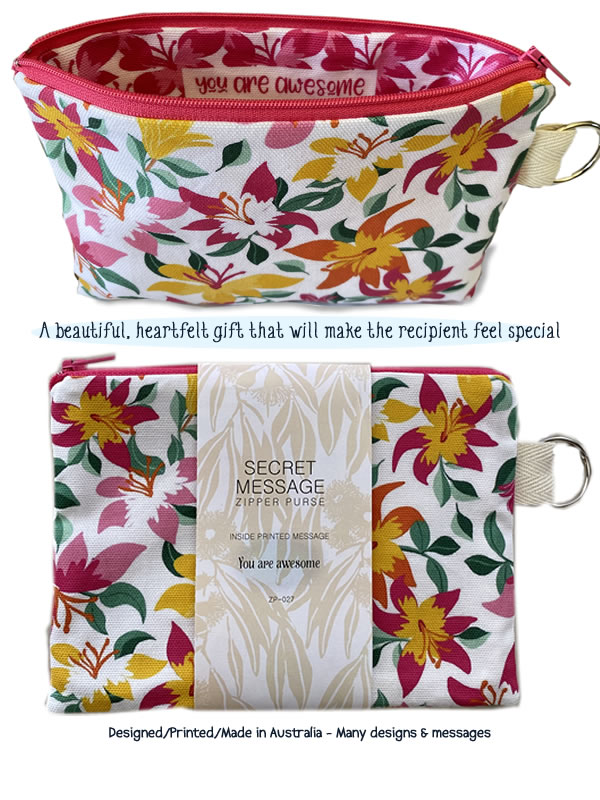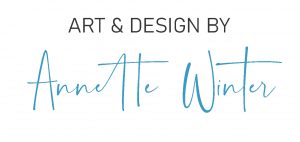 Annette Winter
Ph: 0407 602 449 - Int +61 407 602 449
info@annettewinterdesigns.com
LOXTON - SOUTH AUSTRALIA